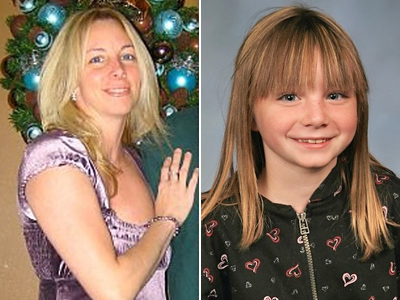 CSO-- The ex-husband of a missing Bucks County mother appealed this morning for the return of her and their 9-year-old daughter, whose disappearance is being treated as an abduction.
FBI Special Agent J.J. Klaver at the same time said, without elaboration, that investigators are following a number of leads in the hunt for Bonnie Sweeten and her daughter Julia Rakoczy.
Anthony Racoczy said that he and Bonnie Sweeten had since maintained a good relationship since they divorced in 2003, and that he knew no reason for anyone to harm her or their daughter.
"I'm still in shock," he said on NBC's Today show. "She's a great mother."
Earlier this morning, Philadelphia police located Sweeten's SUV in Center City.
The discovery came nearly 12 hours after Sweeten called 911 saying she was in the trunk of a car and that she and and Julia had been abducted after an accident in Upper Southampton, Bucks County.
Her daughter, she said was still in the family's Yukon Denali.
A police officer spotted the SUV about 1:30 a.m. today at 15th and Chestnut Streets in Center City, two blocks from the cell phone tower that picked up Sweeten's call, police said. A parking ticket was on the windshied.
Earlier, an Amber Alert was activated for the child.
When Sweeten, 38, called police shortly before 2 p.m. yesterday, she said she was in the trunk of a dark-colored 1990s Cadillac. She said she and her daughter had been abducted by two black males, Klaver, the FBI spokesman, said yesterday.
Sweeten told a 911 operator that her daughter was still in her family vehicle.
The mother reported she and daughter were taken after they were involved in a minor accident with the Cadillac on Street Road in Upper Southampton Township, about a mile north of the city, Klaver said.
Police impounded a black Cadillac with front end damage in Hunting Park last night, but the FBI indicated it was not linked to the investigation.
Julia is described in the Amber Alert as 4 feet, 1 inch tall, 59 pounds, with long brown hair, blue eyes, and a dime-sized birthmark on her forehead.
"She loves the Phillies. She plays softball. She always dances around the house," her father said.
Her mother is described as 5 feet, 11 inches tall, 130 pounds, with blond hair and blue eyes.
Anyone with information about the case was urged to call 911.
Anthony Rakoczy and Sweeten were divorced in Bucks County Court in May 2003. Online court records indicate no ongoing disputes or court actions since the decree was granted.
This morning, Rakoczy said that when he was told of the 911 call, "I was thinking that this is not real, that this is stuff you see on TV." He described Sweeten as very organized, on top of her children's many activities, and as someone with no known enemies.
"I don't understand why anyone would want to keep them," he said. "Just let them go."
Sweeten has since remarried to Richard Sweeten, who operates a landscaping service. According to her Facebook page, she has three daughters, and is a 1989 graduate of Bensalem High School."
Her older daughter, Paige, 15, wrote on her Facebook page: "im asking everyone, to please pray for my mom and sister pray please."
Julia attends Belmont Hills Elementary School in Bensalem. A parent of another child there said that Sweeten had been very active at the school. The parent, who asked not to be identified, said news of the kidnapping broke before a student performance at the school last night.
"The word spread quickly and no one knew what to say," the parent said. "Everyone is shocked. We just pray they come back home safely and we can see them once again in the school she so generously shares her time with." (source)